It has been a long six weeks!
This freshman seminar class I was required to take finally ended yesterday (Sunday). This class is required for every student, but I was not required to pass with a C or better for my degree.
I am very proud of myself though! I didn't think I was going to do really well, was hoping for at least a D. She graded everything pretty quickly… I am wondering if she just gave out all A's 😂.
She did give me feedback on my midterm paper. I wrote about generational trauma using the book There There by Tommy Orange. I am glad she made us read that book, I really enjoyed it.
I had learned a little about generational trauma last semester in my Victomology class and I find it to be absolutely fascinating. Anyway, I guess she was really impressed with my paper and said it is a topic that is being recognized more and she said it would be a good research topic for me 🙌🏽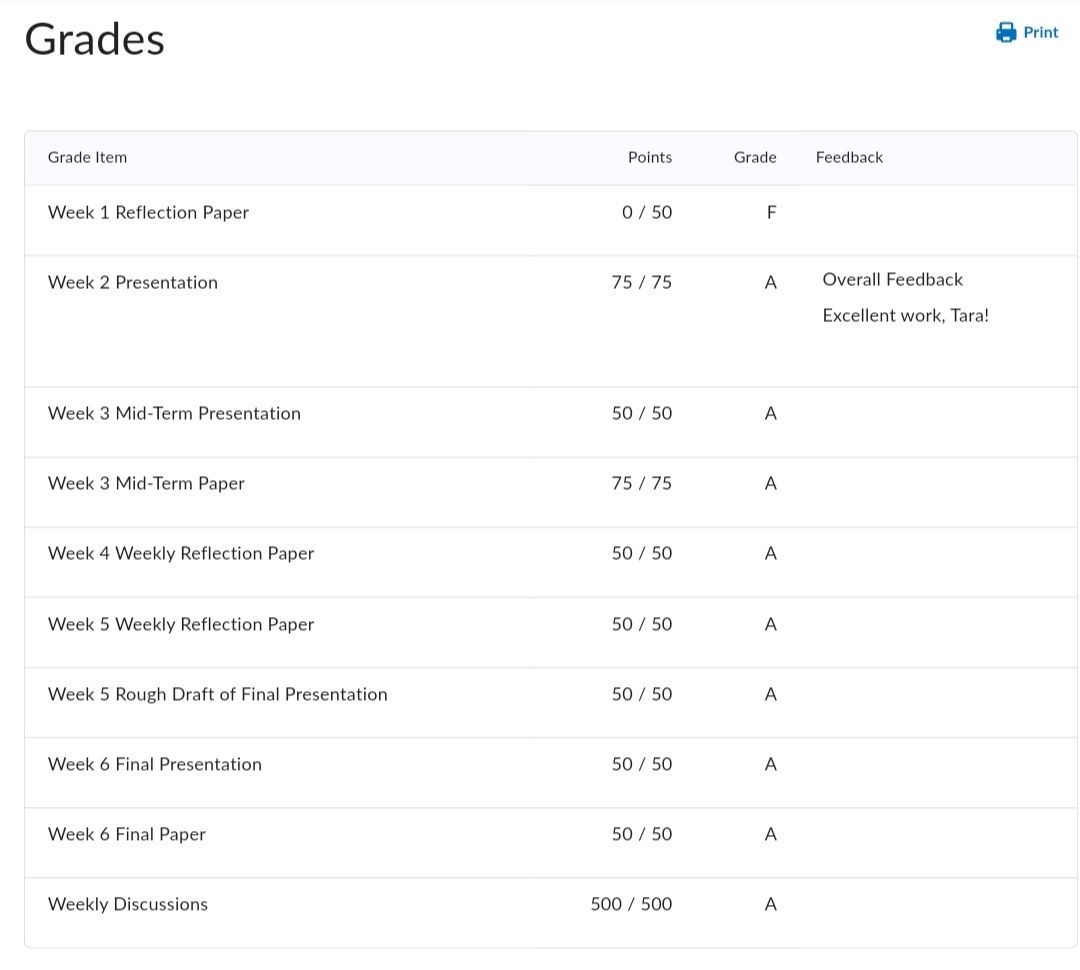 Other good news…
I finally got a grade for my internship paper and I got an A! So now I have my capstone to do next. I am going to see if I can do it on generational trauma, I think that would be really interesting.
For my internship I became a Crisis Counselor and wrote about my work experience and how it relates to psychology. At that time, my mental health was going south, so I asked for an extension on my pqper. She gave me until the end of the following semester, and said if I needed additional time she would give it to me.
My paper was due on a Wednesday (mid-May) and I contacted her asking for additional time. More health issues came up and I was behind in my three classes. She gave me 2 extra days… okay. I was able to get caught up in my classes, passed my finals with two A's and a B and finished my internship paper while on the road to Washington! Huzzah! (My boyfriend would say, lol).
That Friday afternoon I emailed her my paper and documents in case she needed them (she said she needed my work by midnight). She did not get back to me, so a week later I confirmed that she received it and I got a "you bet ya," – a little weird response coming from a professor lol.
Anyway, summer happened and earlier this week I realized my grade still wasn't updated. I contacted her again and turns out she didn't even look at it! She said she skimmed my paper right before she emailed me back and it looked good but she needed to read it in detail. Oy. Anyway, I got the official document today stating my grade was updated! Phew! I am just really glad I didn't have to do my internship again. 🙃
So it's been a very good day!
My boyfriend and I wanted to celebrate but I didn't feel like going out. He was going to get us Thai for dinner, but turns out they are closed Monday and Tuesday. So then I said let's have our favorite Taco Truck and they were closed too! I guess I was just not supposed to celebrate today, so we are celebrating Wedneday when the Thai place is open. 😊
What's next?
I really want to be lazy and de-stress, but I got a text from my stepmom saying "see you next week!" At first I thought she got our dinner date on the wrong day. I thought we had two more weeks… Nope! We leave next week (Thursday), so now I am stressed all over again 🥴 We have to get caught up on laundry and clean the house because we get back two days before school starts.
Washington
We will be gone for four or five days. I called my parents to make sure they were going to be in town so we can stay with them. I asked if it was okay that we bring our dog and they said yes. She even said we could bring our three cats as long as we bring their little box. I wish I could've seen the look my dad made, I am sure he made one haha. And my mother is so cute 😍
I do not plan on making an announcement that we are visiting. But that could change. I'd feel bad for not being able to meet up with people if they asked. Also, they may want to book photo sessions and I don't think I will have time. We have been planning and our schedule is already packed!
We are going to meet up with two of our friends, Meghan and Eryn. Probably Friday evening and Monday evening. One of the nights we are going to solve a mystery game. Not sure about the other night.
We are meeting my stepmom and sister for dinner. I didn't get to see them in May because my sister plays volleyball and they have busy seasons. Luckily she was able to get off work early to have dinner with us. We are going to go to Bahama Breeze in Tukwila.
I asked my cousin if she and her boyfriend can meet us for brunch either on Saturday or Sunday. We aren't related by blood, but she was like a sister to me growing up and our families are really close.
We plan to visit the Museum of Flight either Saturday or Sunday afternoon after brunch with my cousin or another friend if anyone is available.
Then Sunday afternoon we will meet up our friend and his wife. He is actually my boyfriend's friend from college. I'm glad they still keep in contact. We play World of Warcraft with him from time to time.
We initially were planning to go to the Space Needle since we didn't get to go in May, but from their website it sounds like part of it is closed "until Fall 2022." We might still go, but not sure. I grew up in the area and lived there for 27 years and have never been lol. I've walked by it countless times 😅 I would like to go to another museum, but we will see how my boyfriend feels about it. Also, I've been wanting to go to the drive-in because I miss those summer days!
It certainly is going to be a tiring but very fun little trip! We get back two days before my first day of school 😆
---
Follow me on social media: